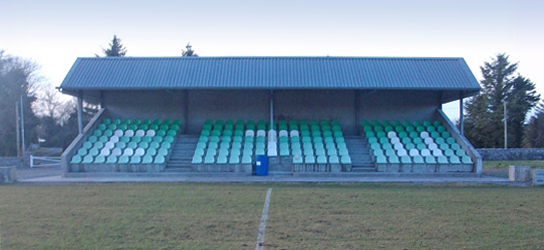 Our development commenced in 2000 and was completed in 2006 with assistance from Fas and funding provided by The National Lottery.Our facilities now include a fully drained playing pitch, adjacent floodlit sand surface training ground, shower rooms, large multi-purpose room, fully equipped kitchen facility & 200 seater stadium. The stand, dressing rooms and associated facilities were officially opened by Pakie Bonnar, Irish International Keeper and blessed by Fr. Gerry Sweeney, SMA in 2007.
Our generous sized multi purpose room is utilised for various activities and doubles up as a meeting room.
We provided a 2nd playing pitch which was officially opened in Sept 2019 by Noel Mooney, FAI General Manager and we are proud to say this was funded solely from various fundraising initiatives. We also have in place a lighted tarmac surface perimeter walkway incorporating gym equipment thanks in the main to LEADER grant funding. Thanks to Frank Keane for all his help with the LEADER application, Orla McCaffrey who looked after the paperwork and Robbie Parker who drew up the plans. This facility was officially opened at the same time and is open to everyone, free of charge.
We are currently fundraising at large to complete an astro turf training ground which we received part grant funding through the Sports Capital allocation. We hope to have this fully completed for the commencement of the 2020/21 season. We are also fundraising to provide a playground for which we also received funding from LEADER. Any financial help to realise the next fruits of our development will be more than greatly appreciated.
We will be forever grateful to Frank & Bernie Burke & Family c/o Burkes Bar who kindly donated the pitch to the club committee to enable us to develop the club's facilities. We are also indebted to our numerous sponsors and supporters who put their hand in their pocket time & time again. Without their generosity, there is no doubt but we would not be in the position we find ourselves in today. We are also grateful to PJ Connell of GRD for the on-going maintenance of the pitch, grounds and clubhouse facility & to Ita Kenny & Kathleen Cannon, GRD Supervisors.