Colemanstown U16s dominant 3-1 league win vs Kiltulla
Colemanstown U16s produced a dominant league performance in winning 3-1 on Kiltullas fine astro this morning to gain all 3 points. The warning signs were there from the start as Colemanstown entirely dominated the first half with shot after shot on goal. On 9mins, Tommy Mellody found Jayo Rabbitte on the left and his curling left footer just whizzed to the right of the right post. It would have been sublime, had it sneaked in. Seconds later Ciarán Keating had an effort which he drilled low and hard but out wide. As Colemanstown piled on the early pressure, a corner from Ciaran Keating curled right in, assisted by the breeze, deflected off the crossbar, fell to Harry Mitchell who played Cian Ruane but he drilled his effort well over the crossbar. Kiltullas's first attack came on 16mins when a bit of hesitancy at the back looked like our defence were caught offguard but Fionn Flattery went down well & stretched out his long arm to pull the ball into his safety.

On 19mins a crossfield pass down the flank from Cilly Fahey to Rabbitte who unleashed a brilliant strike which again deflected off the near post & wide. With 26mins on the clock Colemanstown created yet another chance – Harry Mitchell got a head on a long ball from Cian Ruane at the back which was saved by Kiltulla's keeper who no doubt was putting in a man of the match performance by keeping them in this game, the rebound fell to Rabbitte which again was well held by Kiltulla's custodian. Good pressure from Harry Mitchell won a corner which was swung in, Cian Ruane got a boot to it but again the keeper was equal to the task. One got the impression at this stage that if one went in, the floodgates might open. Just before the break, a good move from Colemanstown saw Tommy Mellody with 2 shots on goal, one from distance where his attempted lob of the keeper was well held & Jason Rabbitte's effort was saved. Rabbitte again showed great footwork as he weaved his way towards the edge of the box, took his shot but it deflected over the bar. Left back Dean Connaire played Rabbitte down the wing, who produced a lovely curling cross into the box while Cilly Fahey was inches away from connecting. Just before the break, Jonah Donnellan tried his luck with an effort from the centre circle but the keeper had plenty of time to see it & did well again. There's no doubt Kiltulla's keeper was playing a blinder and was keeping them in this game as Colemnastown had full control. . 0-0 at the break.
Colemanstown applied the pressure from the re-start winning 2 corners in quick succession. The second corner was swung in by Jonah Donnellan with Jack Jordan having the first pop at goal and few would have predicted what happened next as left back Dean Connaire hammered home the rebound. Jack Jordan had a further chance 5mins later only to be denied by Kasper Schmeichel. 8mins later the boys in green, donning their new green jerseys, made it 2-0 as Cily Fahey saw his effort saved at the butt of the post but Mellody was well positioned to hammer home the rebound. Straight from the kick-off, Cillian Fahey went for the jugular but his effort was well saved by a keeper well on top of his game. The next passage of play saw Jonah Donnellan's crossfield pass to Rabbitte on the flank who in turn found the head of Fahey who headed wide. Kiltulla had half a chance from a set piece as their corner hit the post but immediately down the far goal, Jonah Donnellan's corner was met by Dean Connaire but again the keeper did well as the attempted clearance was handballed by Kiltulla. Tommy Melody saw his spot kick saved but as the sliding body of Luke Williams went to capitalise on the keepers parried ball, the ball deflected off Luke's body and over the goal line for No.3 & so extinguished any hope of a Kiltulla comeback with quarter hour gone in 2nd half. Half hour into the 2nd half, a good passage of play from Kiltulla saw Fionn Flattery make a good double save The last few minutes saw Kiltulla come more into the game as an effort went marginally wide of the right post. With 4 mins remaining a free kick from outside the box saw Kiltulla scramble one back from close range while late in the game Kiltulla broke on the counter and as Fionn advanced off his line, forced the striker to shoot & the effort deflected off the post & fortunately out wide. Colemnastown emptied the bench.

Colemanstown always looked comfortable in this game. Particular mention must go to right back Dara Scarry & left back Dean Connaire who never put a foot wrong as Jason Finn & Gary Lally (with his ice-cream filled belly) made a few changes at half time but Colemanstown continued their superiority & remained a threat all through the 2nd half. Jonathan Keane & Jack Dillon added intensity to the wings; Jack Jordan, Eanna Burke & David Walsh kept the game alive in the midfield area while Larry Murrajvos & Ross Lally did what was required off them in the latter stages. 3-1 it finished in the end, but in truth it could have been much more only for a top class Kiltulla keeper. Next up is Loughrea at home on Sunday next: 10:30am KO

Squad Pictured below: Back Row: L to R: Jack Dillon, Larry Murrajvos, Dean Connaire, Ciarán Keating, Cillian Fahey, Luke Williams, Jonah Donnellan, Jason Rabbitte, Cian Ruane,
Front Row: Eanna Burke, David Walsh, Harry Mitchell, Ross Lally, Fionn Flattery, Jack Jordan, Tommy Mellody, Johnny Keane & Dara Scarry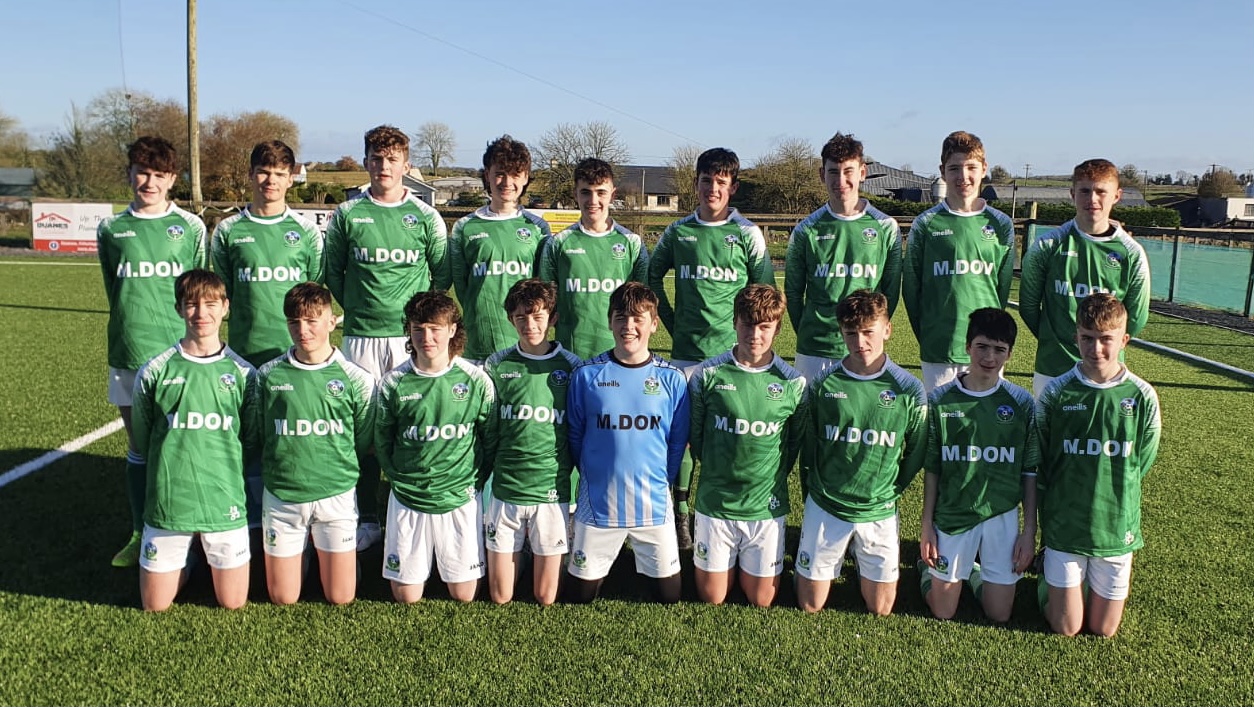 Also photo presentation of a new O'Neills kit to the U16 panel before the game sees Jonah Donnellan (left) with team captain Jason Rabbitte (right)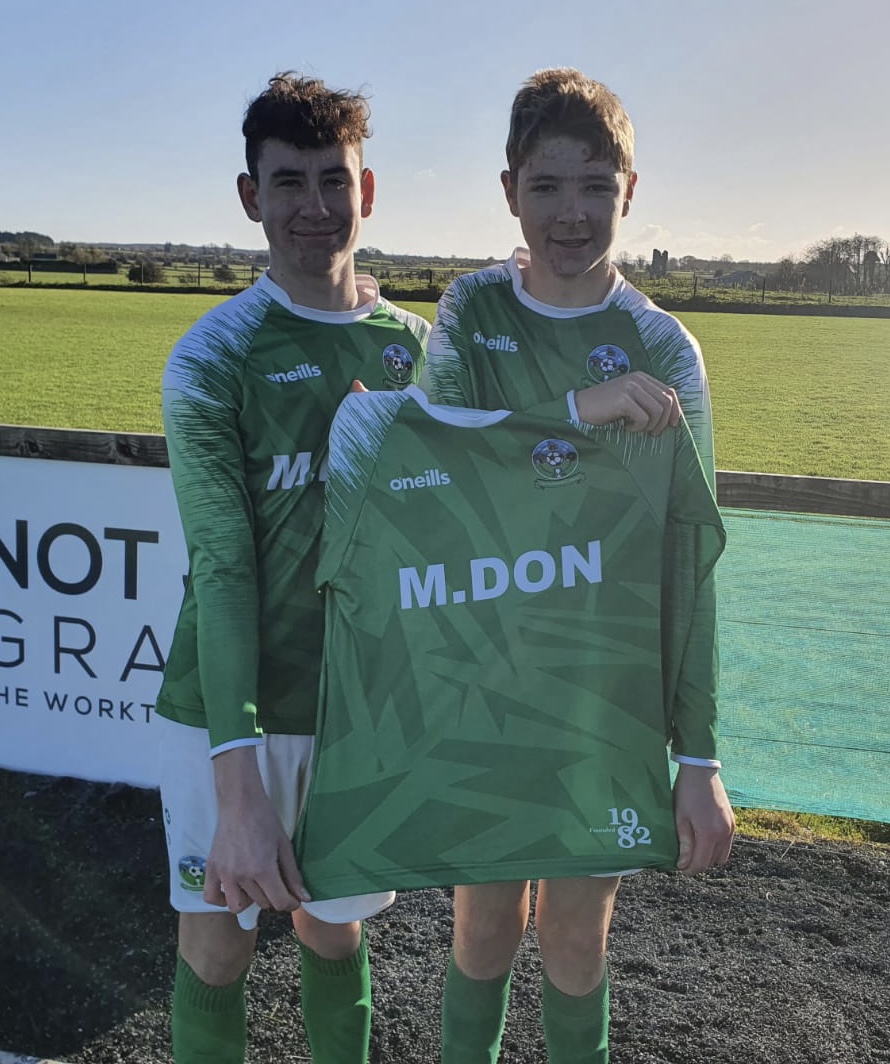 << Previous Page